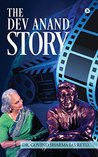 The Dev Anand Story
by
Dr. Govind Sharma IAS Retd.
My rating:
4 of 5 stars
Govind Sharma's remarkable tale of a young man chasing his dream of becoming an actor offers hope in the area of showmanship.
A lucid narration takes you back to yester years (provided that you were alive in the era).
The narration is filled with the hidden and lesser known facts about Dev Anand's life.
After writing various fiction novels, the author has penned down a book about the actor he admires the most and his efforts do not disappoint.
Using the mechanics of his own imagination, he elaborates how Dev Anand became his favorite actor.
He unprejudicly describes about both the successes and failures of Dev Anand during his wonderful career.
The author narrates the demise of the actor with a heavy heart at the beginning of the book.
Then he beautifully sketches the journey of Dev Anand into Film Industry. Finally, the book talks about the Awards and Honours he was galored with.
I was skeptical of the recital being engaging and there were in fact blockades in the flow of reading. The lucidity for me picked up when the travails.
Gathering all the information about the actor's journey, the author has researched extensively and that adds up. Although, I would have prefered to see more vernacular ornamentation to the plain sailing writing style.
A tribute in true sense. Few strands here and there about the humorous incidences during the movies make one chuckle.
Dev Anand has seen his share of ups and downs. An admiring story of an Indian actor, Dev Anand who succeeded, failed and succeeded again and again.
A mostly informative, emotional and insightful look into the inner working of Film Industry. Reading this book, you'd appreciate the fact that fans of Dev Anand were a major culture force.
Through a simple and engaging rendering, the book harbors far more than just advice and inspiration.
Inspirational quotes, detailed description of the actor's movies and his struggles featured heavily in The Dev Anand Story.
The trail of iconic movies of Guide and the classic "Jhonny mera Naam" pastes a smile on my face. The motivational mirror this book is supposed to be on the author stands out with a remarkable ending pages.
The man got Padma Bhushan, I'm not qualified enough to comment on his caliber.
But I can rate the book and it comes out as 3.75/5.
This one will work out for anyone who has an interest in movies.
For Dev Anand fans, it panders to your fandom.
View all my reviews